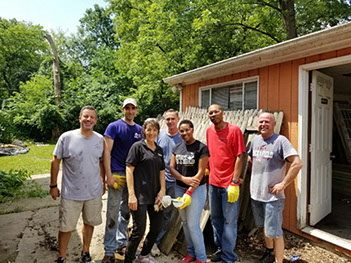 Volunteers begin rehabbing Round Lake Beach house
"This will find a good family someday," said William Powers, chairman of The Affordable Housing Corporation of Lake County and head of RTO Property LLC.
Berg Holdings and Poniente Property complete 2 more Rent to Own Sales
June 16, 2016 –  RTO Property is pleased to announce of the sale of 2 more homes on the Rent To Own program offered to single family home tenants.  The property at 549 Judge in Waukegan and 21 Washington Park in Waukegan were both purchased by the tenants after 18 and 36 month lease terms, respectively.  Chris Fosberg, Manager of Poniente Properties LLC said "The program provides a great way to build home ownership in Waukegan, while providing an exit strategy for investors such as Poniente Properties."  Chris grew up in Waukegan and has purchased dozens of homes in and around the community where he grew up.  Bill Powers, President of Berg Holdings Inc stated, "We are pleased to see Gus Perez, our tenant of 3 years purchase 21 Washington Park.  Gus has worked hard to prepare himself for home ownership, and we are happy to see he could obtain the financing through Quicken Loans and close on the home."  RTO Property helped assist its residents with credit counseling and introductions to mortgage brokers to facilitate the purchase of homes they have leased.
RTO Property Purchases 5 homes through Affordable Housing Corporation Community Partner Program
May 23, 2016 –  RTO Property LLC and The Affordable Housing Corporation of Lake County (AHCLC) are pleased to announce the sale of 5 homes.  RTO Property assisted several related holding companies in the purchase of these 5 homes via Community Partner Program (CPP). The partnership between RTO property and AHCLC has been effective for both organizations as William Powers states "We are pleased to launch this new program with AHCLC and focus on renovating blighted property in Lake County".  The program provides AHCLC the opportunity to work with qualified, vented general contractors that can renovate homes to a high level, then provide them for sale or rental.  According to Rob Anthony, CEO of AHCLC, "Each home renovation will be monitored to insure the renovation meets the standards which AHCLC and the government agencies that sell them the homes require."  RTO Property is one of 6 partners in the CPP and they plan on continuing to purchase homes through the program.
William Powers Appointed President of Board at Affordable Housing Corporation
January 1, 2016 – William Powers accepted the position of President of the Board of Directors for the Affordable Housing Corporation of Lake County with a term to begin on January 1, 2016.  Mr Powers seved on the board as a member since 2014, and his appointment was made by the former CEO of AHCLC Lisa Pugliese to replace Mel Metts as his term expired.  The newly appointed CEO, Rob Anthony said, "Mr Powers will provide much needed experience and guidance with the redevelopment projects we are targeted throughout the county including Waukegan, where Bill has completed over 100 renovations in the past 5 years."  "It is a privilege to continue on the board in this capacity" stated Powers, "I look forward to working with Rob and his entire staff to continue the work and build the success Lisa established over the past decade."
RTO Property partners with AKL Architects on Libertyville IL Development
December 1, 2015 – RTO Property has partnered with AKL Architects for building plan and architectural services.  The first project they will collaborate will be 321 W Lake St in Libertyville IL.  AKL will provide a complete redesign including the addition of a second floor.   The property is located in a highly desirable area of Libertyville near the train station and downtown, so a well designed project is critical to maximize value for this project.  The goal of project is to have the property offer everything that new contraction in the area offers while maintaining a "Craftsman" design.  Pam Wittenbrink of Witt Holdings LLC is providing all the design direction on the project as she works in colaberation with AKL.
Contact Bill Powers, RTO Property LLC at 847 672 4848
Lisa May, 7th Ward Alderman, Waukegan
2014-03-17 City of Waukegan City Council Meeting
#8 Bill Powers went from 0 to over 225 rent to own properties in the last 10 years, here is how he did it

If you'd like to give the rent to own business a try but don't know where to start, you will find today's episode massively valuable. Our incredible guest has done something truly impressive: he accumulated 250 rental properties in just a few years. In today's episode, he shared how he made it all happen.
National Association of Home Builders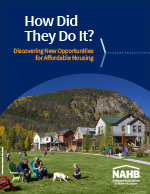 Revitalizing existing housing stock is often overlooked as an important affordable housing strategy. The Affordable Housing Corporation of Lake County launched an acquisition and rehabilitation program for 50 for-sale, single-family homes in its service area, supported with $2 million from the National Foreclosure Settlement.
You Don't Need Sky-High Income To Buy A Home 
A Seller's Case for Signing a Rent to Own Agreement
06-06-17 — Do you want to make more money but don't know how? A new trend called "house hacking" could be the answer! Founder of My Landlord Helper, Linda Liberatore, joined us to explain house hacking and how you can get paid to live for free!